Colson Whitehead in The New Yorker: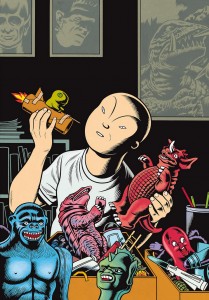 Growing up on the Upper East Side in the nineteen-seventies, I was a bit of a shut-in. I would prefer to have been a sickly child. I always love it when I read a biography of some key
Modernist or neurasthenic Victorian
I dwelled in a backward age, full of darkness, before the VCR boom, before streaming and on-demand, before DVRs roamed the cable channels at night, scavenging content. Either a movie was on or it wasn't. If I was lucky, I'd come home from elementary school to find WABC's "The 4:30 Movie" in the middle of Monster Week, wherein vengeful amphibians chased Ray Milland like death-come-a-hopping ("Frogs"), or George Hamilton emoted fiercely in what one assumes was the world's first telekinesis whodunnit ("The Power"). Weekends, "Chiller Theatre," on WPIX, played horror classics that provided an education on the subjects of sapphic vampires and ill-considered head transplants. I snacked on Oscar Mayer baloney, which I rolled into cigarette-size payloads of processed meat, and although I didn't know it at the time, started taking notes about artists and monsters.and it says, "So-and-so was a sickly child, forced to retreat into a world of his imagination." But the truth is that I just didn't like leaving the house. Other kids played in Central Park, participated in athletics, basked and what have you in the great outdoors. I preferred to lie on the living-room carpet, watching horror movies.